Drew? Drew who, you ask.
Well he is Drew Struzan, the most famous and collected artist in the world, a true master in the field of cinema posters, with private collections owned by George Lucas, Steven Spielberg and Disney Chairman Michael Eisner.
With over twenty-five years experience and more than a hundred movie campaigns under his belt, his noteworthy credits includes Raider's of the Lost Ark, Indiana Jones and the Temple of Doom, Indiana Jones and the Last Crusade, Back to the Future I, II, III,
the re-release of the Star Wars trilogy and Star Wars: The Phantom Menace.
He's painted memorable posters like Blade Runner, E.T. The Extra-Terretrial, Hook, Cutthroat Island, Muppet Caper, Cannoball Run, Masters of the Universe, Coming to America. He's done album cover, book cover, Franklin Mint plates, TV Guide cover, Sports Illustrated ad, Levi's, Airline broucher, Mall posters, Teacher's Scotch ad, and the list goes on and on and on.

After graduating with honors from the prestigious Art Center of Design, Drew first gained his reputation back in the 70's illustrating album covers such as Alice Cooper's "Welcome to my Nightmare" voted one of the top 100 Album covers of all time by Rolling Stone Magazine, and got notice by the movie industries. Over the following eight years Drew Struzan developed his now-famous style of One Sheet poster art, which includes such memorable works as The Seven-Per-Cent Solution, First Blood, Return of the Jedi and the international campaign for Raiders of the Lost Ark. In 1982, Drew embarked on a solo career that has earned him continuing accolades and increasing recognition as one of the most recognized masters of the Cinema Art medium today.

In 1995-1997, Drew's art was exhibited in a series of One Man Shows throughout Japan, accompanied by a highly limited edition program based on his One Sheet art for Lucas and Spielberg movies. In 1999, the Norman Rockwell Museum at Stockbridge (Massachusetts) featured an exhibit of over sixty-five pieces of his work, entitled "Drew: Art of the Cinema". Drew's collectable work is held in similar high esteem and along side such American art masters as Norman Rockwell, Maxfield Parrish, and J.C. Leyendecker.
----------------------------------------------------------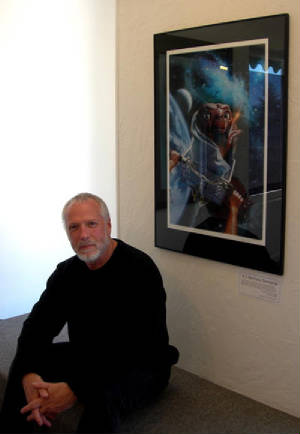 "Having been working at not working has produced a guy who could never return to illustration again.
It took a lot to attempt the idea of retiring from my 40 years of effort and sacrifice but now that I have, I am delighting in life as never before.
I had forgotten how to rest, to smell the proverbial roses and to see the future as opportunity.
I am grateful and honored to have had the opportunity to do all the work I did.
I am well pleased to have been able to give a gift of beauty and peace through my artwork to so many throughout the world.
Now I have laid down the burden and have peace and happiness as the reward for my day's labor."
Drew Struzan
Sept. 3, 2008