THE VISUAL COMMUNICATION
LOS ANGELES FILM & VIDEO FESTIVAL
May 17-24, 2001

1Man Filmmaking is nominated for the Golden Reel Award of the L.A. FilmFest.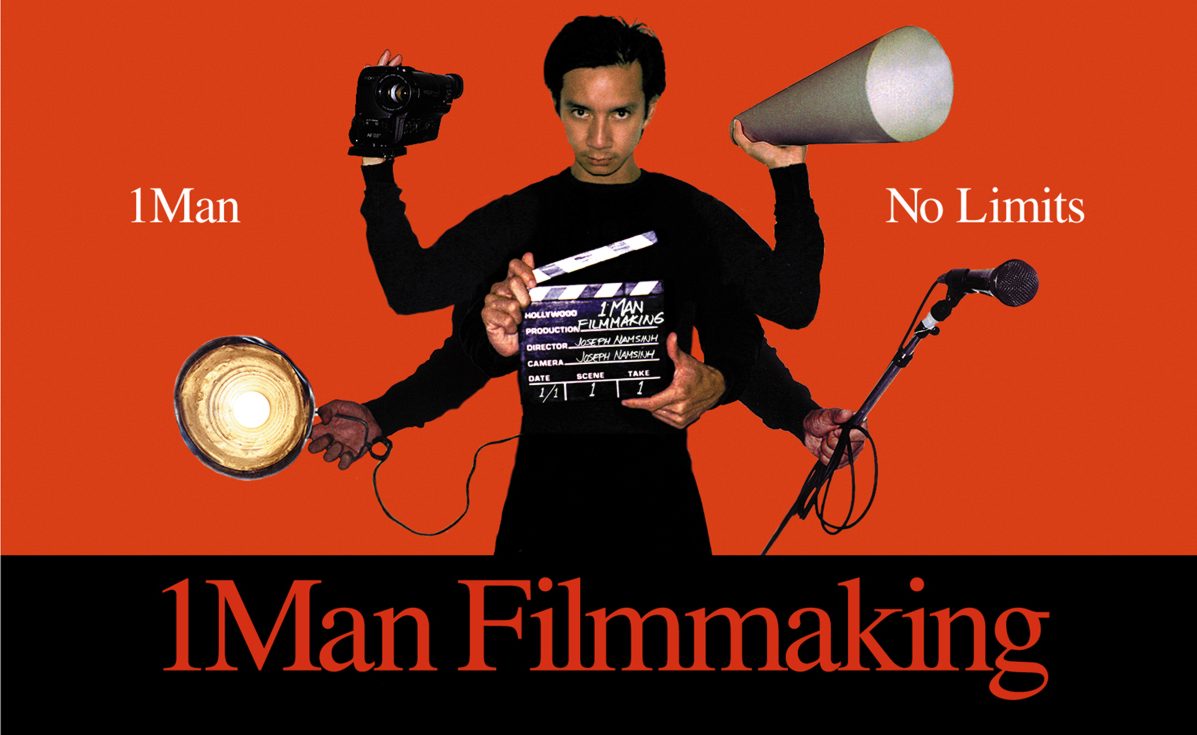 Meet me at the festival for a rare 1 on 1 opportunity to share secrets and get the video!
1Man Filmmaking is playing in a Program of 8 Short Films on
Saturday May 19, 11am & Sunday May 20, 3pm
at the Director's Guild of America. See below for address.
Total running time: Approximately 1 hour. 1 Man Filmmaking is the 6th film in the program.
Program General Admission: $8.50
Students with I.D., Seniors, Friends of Visual Communications/DGA/JACCC
members I.D.: $6.50
Meet John Woo!
John Woo, director of "Mission Impossible 2", "Face Off", & "The Killer" will also be present at a Filmmaker Seminar on Saturday May 19, 10 am to 11am at the Director's Guild of America. Clips of his films will be shown and an intimate Question & Answer period will follow. Seminar Admission: $10.00. Or $25 for any 3 seminars of your choice. Come meet this master of the contemporary action sequence. Then meet 1Man, the master of truly independent filmmaking!
1 Man will be present on each day of the festival.
You can watch different shows. Or just visit me for free!

May 17-18, 7pm - 10pm, & May 19-20, 10am - 10pm
Directors Guild of America
7920 Sunset Blvd., 1 block west of Fairfax Ave., corner of Sunset & Hayworth
PARKING: $2.00. Enter on Hayworth Ave.

May 21-22, 7pm - 10pm
The Village at Ed Gould Plaza
1125 N. McCadden Place; North of Santa Monica Blvd. & East of Highland Ave.
PARKING: Available across the street.

May 23-24, 7pm - 10pm
Japan America Theatre
244 S. San Pedro St., Little Tokyo in downtown L.A. (between 2nd & 3rd St.)
PARKING: Available for $1.75 across the street from the JAT; or in Sho Tokyo lot on 2nd St. between S. San Pedro St. & Central Ave. (Sho Tokyo lot closes at 11 pm Mon - Sat & 7 pm on Sun)
Meet talent who can Write, Produce, Direct, Rehearse, Light, Shoot, Act, Edit, Compose, and Score!
Many other people who do that besides myself will be there.